Portsmouth Olympic Harbour

The waters off Kingston offers the best fresh-water sailing in the world. Located at the eastern end of Lake Ontario and the head of the St. Lawrence River, the combination of land mass, islands and thermal effects produce excellent wind and wave conditions with very little current. Winds during July are predominantly from a south-westerly direction, with an afternoon wind range of 10-15 knots. Water temperature varies between 18 to 22 degrees (Celsius) with normal air temperature being 25 to 35 degrees (Celsius). Daylight hours are approximately 16 hours per day.
Kingston's thermal wind arises most afternoons and usually reaches 10-12 knots.
Kingston airport is close to the water, approximately 1 nautical mile (2 kilometres) from the sailing site, and keeps weather records.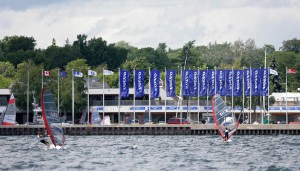 The race courses are a short 10 to 15-minute sail from the sailing venue, Portsmouth Olympic Harbour, allowing necessary support services to be made available in close proximity of the course location.  While course lengths can be adjusted to meet the daily requirements, a wide-open expanse allows all three courses to be run within sight of each other.
The shore facilities include event offices, boat storage, change room facilities, boat and gear repair services and chandlery.
[accordions id='10522′]