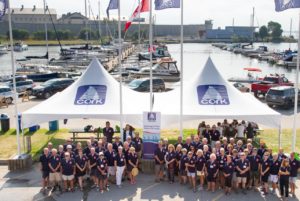 Congratulations CORK TEAM!
Sail Canada has chosen the ILCA Laser 4.7 Youth World Championships and the Laser Radial Youth World Championships hosted by CORK / Sail Kingston as the recipients of the 2019 Chisholm Trophy for Excellence in Race Management!
The award will be presented at the Sail Canada Rolex Sailor of the Year Awards on Friday, March 6th, 2020 at The Carlu, in Toronto.
CORK hosts annual events in August and September. The 2020 schedule is posted online.

For more information
CORK website: www.cork.org
CORK Regatta Office: (613)-545-1322
Email: info@cork.org
Address: Portsmouth Olympic Harbour 53 Yonge Street, Kingston Ontario
Facebook: www.facebook.com/CORKSailKingston
Twitter: www.twitter.com/corkkingston
Instagram: www.instagram.com/corkkingston