(Story written by Peter Warren and Rob Shapiro)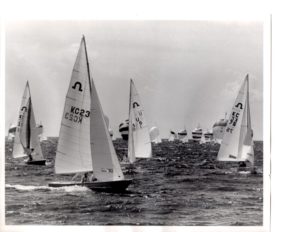 (Photo submitted by Ron Gilkie Soling competitor)
My two attended CORK regattas, 1970 and 1971, were both quite memorable.  I was 19 years old in 1970 — 1970 in the Soling Class with USA 186 and 1971 with Soling USA 507.
My crew for both regattas was Rob Shapiro and (the late) John Nystedt.
In 1970, the fleet consisted of about 60 boats all experiencing very strong winds throughout the event.
During a gybe in about 25 knots, our 200 lbs+ crew John was lifted a couple of feet off the deck by the spinnaker pole (attached to both sheets) when the boat came off a plane.  Facing aft, his expression was priceless!  Rob and I yelled to just 'hang-on' while we got the boat back up on the next wave and he slowly floated back on deck and was able to complete the pole connection to the mast.
We attended a massive cocktail party on the night before the next-to-last scheduled race where our former (also late) sailing coach Carl VanDyne introduced us to Buddy Melges.
Buddy shared, with this starry-eyed group of teens, a key secret to his success  (he won every race in the Soling fleet that year).
The next day, after starting at opposite ends of the starting line, we crossed tacks with him near the first windward mark.
Friendly words were exchanged (and shall remain confidential) based on the past night's meeting.  Then, he crossed us on the next set of tacks and left us in the dust!
In 1971 we had a new boat, new sails and lots more experience in the class.  We finished a very satisfying 3rd with Buddy first again (though not undefeated this time) and the late Bruce Goldsmith 2nd.
We drove the boat back to Marblehead, our home port, after a successful border crossing, then returned to our respective colleges.
Both regattas were very well run and some of the more challenging as well as memorable racing for each us.
Thanks again to all of the volunteers and sailors who have helped make CORK a 'do-not-miss' regatta!
Regards,
Peter Warren and Rob Shapiro
Some final thoughts from Peter:
We raced together from the early teen years through, well, let's just say far into adulthood!  He was very successful in the cockpit and dragged me along!!!  Lots of one-design classes, Sears and Mallory Cup finals and of course great fun at CORK.  Thanks for putting this effort together,  Peter
The narrative and that wonderful photo bring back so many memories!  The CORK experiences were truly among the highlights of those many years of sailing and competing together, and meeting and making wonderful friends along the way.
Very best wishes – Rob
Thank you for sharing your memories with us Peter and Rob!
If you have story that you would like to share with others tag us in a story on social media or reach out to events@cork.org
We are looking forward to hearing from you!
The CORK Team

CORK website: www.cork.org
CORK Regatta Office: (613)-545-1322
Email: info@cork.org
Address: Portsmouth Olympic Harbour 53 Yonge Street, Kingston, Ontario, Canada.
Facebook: www.facebook.com/CORKSailKingston
Twitter: www.twitter.com/corkkingston
Instagram: www.instagram.com/corkkingston