As the boats and equipment are stored for the winter, we wanted to share with you a significant milestone of the 2021 CORK season – the commissioning, launch and bringing to life of the new Tim Irwin. Below are links to wonderful photos and videos of the dedication ceremony. CORK's newest signal boat served us well throughout our regatta season.  Thank you.
We miss Tim but are so thankful for the generosity of all our donors and volunteers that turned a former dive boat into the Tim Irwin. Tim's legacy is now well remembered and honoured.
George Jackson Fundraising Committee Chair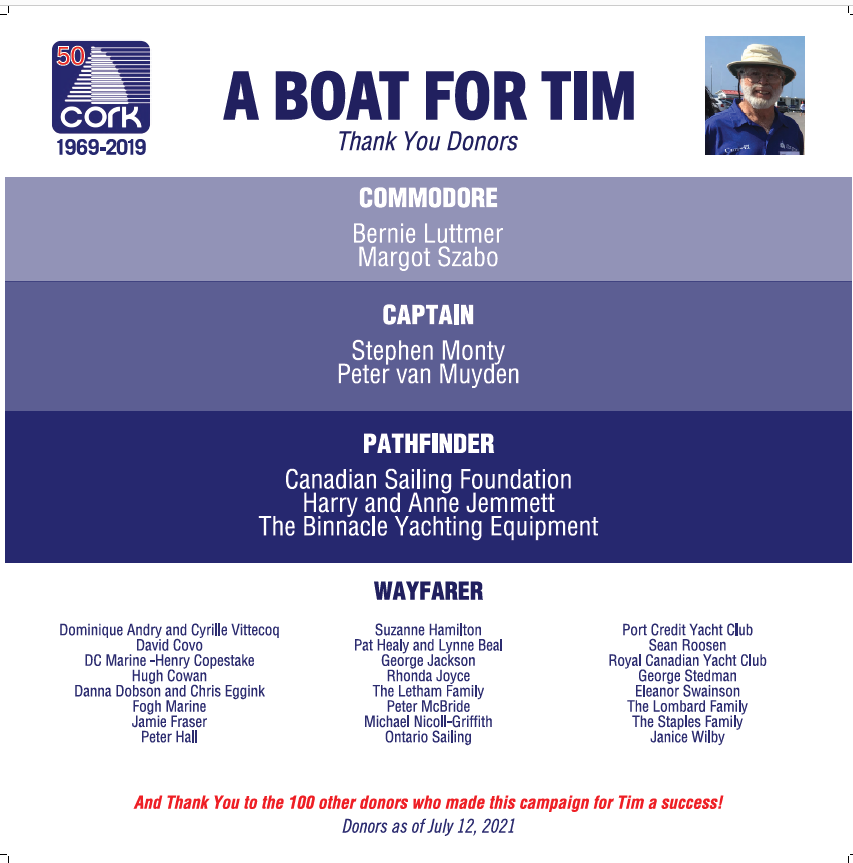 ADVENTURER ($500-999)
Will Apold
Jim Beckett
Paul Brennan
Steve Brunsden
Tammy Coutu & Scott Collinson
Gord Crothers
Ken & Karin Fraser
Martha Henderson
Charles Innes
Oskar Johansson
Philip Kerrigan
Peter Lyall
Pat Lymburner
David McNabb
Rob Muru
Terry Neilson
Royal St. Lawrence Yacht Club
Andy Roy
Skip & BJ Ryan
Martin ten Hove
The Garrett Family
Mary Westerland & Ralph Shaw
Mike Wolfs
NAVIGATOR ($250-499)
Evert  Bastet
Ralph  Clasby
Rob &  Alevia Colwell
Paul Gilbert
John Henderson
Gary Howard
Fraser Howell
Joe Jospe
Karen McRae
Ann Rouget
Ian Struthers
Jamie & Pauline Sutherland
David Wells
QUARTERMASTER ($25-249)
Jim  Albert
John Angus
Blanche Battersby
David Borrowman
Mike Bowan
Jeff & Florance Boyd
Julian Brown
Gilles Chercuitte
John Cormack
Michael Couture
John Creber
Michael Dawson
Graham Dougall
Robert  Duggan
Barry Elvidge
Robert  Erdahl
Elsabe Falkson
Robert Fugler
Marie Gendron
Robert  Greenhalgh
Rosemary Helmer
Doreen Hilliard
Brian Hinchy
John Hooper
Chris Klotz
Russell Krause
Wendy Loat
Susan Long Poucher
David Mackinnon
Rob Mahood
Ronald  Mazza
Hugh McDowell
Hugh McGugan
Irene McNeil
David & Donna More
Peter Mosley
Katherine Nicoll
Mark Osterman
Trevor Pareck
Heather Pelow
Ron Rubideau
Rick Sellens
Taran Teague
The Davis Family
Gillian Thompson
Tony Van Schie
Norman Vanstone
REPORT OF THE FUNDRAISING COMMITTEE
TO THE CORK AGM 13 APRIL 2021
 We did it! We exceeded our fundraising goal! We set a goal of $50,000.  The race committee boat will be named to honour the late Tim Irwin. Thank you!
Jamie Fraser announced at the 2020 AGM that Tim's legacy must be honoured.  The CORK Board of Directors agreed on several measures to ensure CORK sailors and volunteers would long remember Tim Irwin's contributions. The generous support we experienced showed others feel the same way.
As you know, Tim Irwin was a keen competitor, a tireless volunteer, a leader through the entire 50 years of CORK and a friend to many.
The Board decided a wonderful way to keep Tim's name and spirit alive while at the same time providing first-class platform for our race organizers would be to find, refurbish and recommission a RC boat to be named in Tim's honour.
CORK's first ever fundraising campaign began with full participation by the CORK Board of Directors. Their generosity set the bar and gave the campaign a terrific start. A campaign distinguished by financial benevolence, yet so many friends of Tim and CORK have given their time and talent too! Although not as measurable, this kind of commitment and dedication is immeasurable to the campaign's success. It's truly inspiring to see so many rallied around this endeavour. Thank you!
Commencing in September, with alacrity, the Board approved a stewardship policy, launched the campaign, purchased the boat by December, and reached our fundraising goal in mid-March. We were able to keep our solicitations, for the most part, to friends of CORK, members, sailing associations, clubs, volunteers, friends, and family members of Tim. Folks from coast to coast and around the world donated cash, stock, art and marine equipment. We predict further donations. Any additional money raised will go towards the refurbishing expenses and the new Tim Irwin's near-term operating costs.
To do what we did takes a dedicated group of volunteers – The Steering Committee and Campaign Cabinet came through in spades. This keen team led the way with their time, talent and treasure. The volunteer hours contributed invaluable! I must also put the appreciation spotlight on Kim and Marianne. Without their support, attention to detail and a steady hand, this campaign would have struggled. We are also lucky to have Wind Athletes Canada providing us with an efficient means to make tax-deductible donations.
In the coming weeks, we will be thanking and recognizing our generous donors, sharing this good news, and working on Tim Irwin's refurbishment. We will start by identifying those that have contributed more than $500 in this AGM report.
I look forward to seeing many of you honour Tim's memory and legacy at the launch this summer.
CORK Fundraising Committee Chair
George M. Jackson
Steering Committee
George Jackson
Dominique Andry
Jamie Fraser
Stephen Monty
Marianne Davis
Kim Garrett
Campaign Cabinet
David Covo
Peter Hall
Pat Lymburner
Andy Roy
Cyrille Vittecoq
Recommissioning team
Jamie Fraser
Michel Brisebois
Brian Brooks
Henry Copestake
Hugh Cowan
John Creber
Chris Eggink
Ken Fraser
Larry Smith
John Vines
Ben Tripp
Special advisors
Paul Brennan
Henry Copestake
Pat Lymburner
Irene McNeill
Peter van Muyden