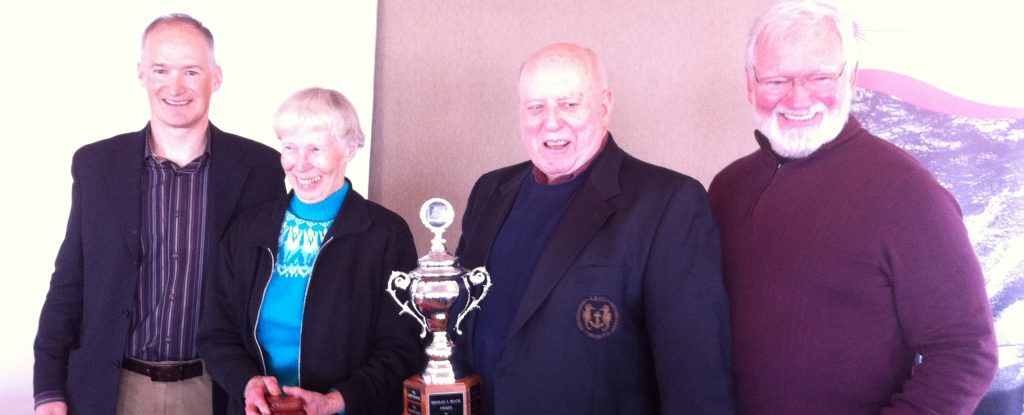 (Nigel Heath on left, Liz and Don MacIntyre in middle, Pat Lymburner on right)
At the CORK Annual General Meeting (AGM) held this past weekend at the Kingston Yacht Club, Liz and Don MacIntyre's volunteer work was celebrated and recognized with the Douglas A.Heath Award.
Douglas Austin Heath was a long time volunteer with the CORK regatta. His involvement included being on the Board of Directors and Executive, administration of Opening and Closing Ceremonies, long term developments and much more. In his honour, the Douglas A Heath Award is presented annually –when appropriate- at CORK. In deciding upon a recipient, the Award selection committee considers a volunteer's involvement, level of commitment, type of contribution and length of involvement. It is intended that the involvement be of a quality comparable to that of Douglas A. Heath.
Don and Liz MacIntyre have given a tremendous amount of their time and energy to the sport of sailing. Don was  instrumental in getting the Toronto area Clubs and Race Officials to come to CORK and for many years the Sarah Ashbridge and a mark boat were brought to Kingston to help with the event. They have become fixtures at CORK in a variety of roles from judging to recording finishes to being the RO for many of CORKs championships and the Jury Secretary. Their unwavering support for CORK during the off season has brought many new faces to Kingston. Their support is recognized by the presentation of the Douglas Heath Award, the highest honour CORK can bestow, as testament to their continuing support and service to CORK.
We congratulate Liz and Don for their tremendous contributions!