This article was posted on the ILCA website on 
One Championship – Two Perspectives
A look at the 2019 Radial Youth World Championships from two perspectives: a sailor, and a parent.
Erin's Perspective
At the beginning of this year at my first Radial Nationals, I wasn't overly happy with how I went in the Open Nationals. As always when you get a result that you weren't hoping for, I was feeling a little down and a little bit mad at myself that I had set my expectations of myself a little too high. Although I was feeling this, it also came with the motivation and drive to train even harder than I had been the year before. A couple of months later, my parents told me that I was maybe going to get the opportunity to go to a youth worlds.
Of course, straight away I was super excited but nervous. I knew that my coaches had full confidence that I would get to go but I was still a bit hesitant. After I applied for a spot on the team, I started training harder and more often and it was really interesting to reflect on how my expectations of my performance were changing. Some days when I was feeling good, it would be looser and I had less of a strict expectation for myself, but on some days when maybe I felt slow or I was falling out of line ups, I was harder on myself. It was good to talk to people about how I was feeling on bad days because it put things into perspective. Finally, offers came out and I had got one. This was the best motivation I had ever experienced, and I was feeling really good. I was pumped to go overseas for sailing.
Skip forward a few months and I was finally in Canada ready to start training. Straight away, all the other sailors were so inclusive and friendly, I knew immediately that even if the regatta didn't go well, I would already have memories I would never forget. The coaches for the regatta were some of the nicest people I have ever met. I could not have more impressed at how professional yet welcoming these guys were. They paid attention to every single sailor with enthusiasm no matter the skill level. Everyone got a chance with them and the information they gave us every day was very impressive.
After meeting everyone, we got on the water for training which was so different to back home. As always, speed was a focus for each session. At the event there were some days where I was feeling good and some days were I wasn't but I knew it was important to keep my head up and focus on my end goal of getting as much information as I could retain. After training, the regatta began and to be honest, I wasn't actually feeling that nervous, I was feeling really confident. From this confidence and the belief that I deserved to be there, I managed to have the best starts I have ever had in my life. The more races I did, the more I felt like I knew what I was doing, obviously with a few ups and downs results wise in the middle, but I was extremely proud of myself for finishing the regatta with my best result, an 11th.
I have learnt a lot by going to my first worlds and I learnt even more from reflecting on the training beforehand regarding expectations. I have learnt that it's not bad to have expectations for yourself even if they sometimes are high, but it is always important that if you feel that you didn't live up to your expectations to not get disheartened and stop trying but to use every ounce of drive you have left to work even harder.
Parent's Perspective
When Erin first started sailing a Laser in 2016, Ken told me that she'd soon be heading overseas to sail in a regatta. We laughed, thinking that he was slightly bonkers. She hadn't even done a National event…in ANY boat! Yet, three years later, we found ourselves heading to Canada for Erin's first International regatta, the 2019 ILCA Laser Radial Youth World Championships.
Like anything new, participating in a Youth World event came with a fairly steep learning curve – for both the sailor and her parents. Luckily, we were all supported by the generosity of the veterans who'd been there before us. Thanks to the support offered by her coaches at home, Erin was able to increase her level of training, both on and off the water, in preparation for the higher level of competition and we were able to ask many, many painfully-obvious questions about what to expect. If there is one thing we learned from the experience it was to ask questions if you are unsure about anything – from the application and ranking process to arranging visas through the appropriate channels. Someone will be able to fill you in.
Erin was also fortunate enough to receive some financial support from her local club, Royal Queensland Yacht Squadron, and the Queensland Laser Association. It's not an inexpensive endeavour, and every little bit of support helps. Don't be afraid to ask.
Aside from the sailing, the most exciting aspect of the whole adventure for Erin was the arrival of the team uniform! It's a pretty special feeling to don that Australian jacket, and I think it was at that moment, the reality of what was to come hit home for her.
Once we arrived in Kingston, Canada, it was one new experience after another – fortunately, all of them good. From meeting the other Aussie sailors and their parents, to participating in the athlete's parade at the Opening Ceremony, from lining up for the first time ever on a girls-only start line to being shouted at in a foreign language, all these experiences added up to an event which is sure to stay with Erin for a lifetime.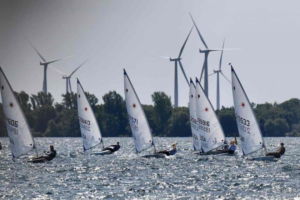 Leading into the regatta, we were expecting lots of very light wind with perhaps a few delays waiting for the breeze to build. In reality, the sailors experienced quite a range of conditions, which gave everyone an opportunity to do their best. One of the things I am most proud of is that Erin continued to learn each day, building on her experience and improving her results across the week, finishing up with her best result in the final race of the regatta.
The team was fortunate enough to be coached by two fabulous people, Ryan Palk and Ben Walkemeyer, who supported the kids both on the water and off, from the measurement process to the protest room. They coached the sailors as a group, but also took the time to speak with each sailor individually when needed. It was so valuable for Erin to hear from different coaches, too. She learned so much during these two weeks and is keen to take it back to her regular training and racing.