Douglas Austin Heath was a long time volunteer with the Canadian Olympic-training Regatta at Kingston (CORK), and his involvement with the regatta included long involvement on the Board of Directors and the Executive. His further volunteer efforts included daily visits to the office, intense involvement in class selection, supervision and administration of Opening Ceremonies, Awards Ceremonies and Closing Ceremonies and long term developments.
The Award is presented annually, when appropriate, to a volunteer selected from nominees by a Selection Committee (the Executive and a member of the Heath family). In deciding upon a recipient of the Award the Selection Committee shall consider the type of involvement, the level of commitment, the type of contribution and the length of involvement. It is intended that the involvement be of a quality comparable to that of Douglas Heath. It is further intended that the Award not be presented for involvement which ended prior to June 1996.
The 2020 recipient of the Douglas A. Heath Volunteer Award  
We congratulate Suzanne Hamilton for her tremendous contributions to CORK!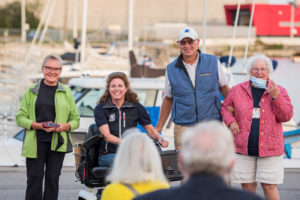 (L-R Suzanne Hamilton 2020 recipient of the Heath Award, Janice Wilby, Rob Colwell and Blanche Battersby 2019 recipient of the Heath Award)
Suzanne and Blanche were presented the award in person by Janice Wilby and Rob Colwell on Saturday September 25th 2021 at the Tim Irwin naming ceremony.
---
Past Recipients:
1997 – Jack Cameron
1998 –  Bart Dalton
1999 – Paul Rushton and Valerie Bergeron
2000 – Bryan Smith
2001 – Laurel Connell
2002 – Bill Monkman
2003 – Carole Pearcy
2004 – Julie Hudson
2005 – Ross Cameron
2006 – Ila Colborne
2007 – Lorne Bellamy
2008 – Ian Gow
2009 – Bud Gormley
2010 – Tim Irwin
2011 – Dave Coleman
2012 – Dr. Jim Beckett
2013- Geoff Webster
2014- Bob Pritchard
2015- Don and Liz MacIntyre
2016- Michael Nicoll-Griffith
2017-Mary Wilson
2018-Pat Lymburner
2019-Blanche Battersby and Ron Rubadeau
2020-Suzanne Hamilton