Tim Irwin Memorial Tree – click here for more information
---
THE TIM IRWIN AWARD FOR EXCEPTIONAL SERVICE
DEED OF GIFT
The award is intended to recognize volunteers who have been of exceptional service to CORK in one or more areas of endeavour. It may be a continued effort over a number of years, or it may be an exceptional effort over a single year. In view of this high standard, it need not be awarded every year.
The award shall be:
Presented at the Annual General Meeting (AGM) of CORK. Recipients shall be informed of the honour, such that they may attend the AGM
Presented to a volunteer selected from nominees by a Selection Committee so charged by the Board of Directors. The Selection Committee shall be the Executive Committee of the CORK Board of Directors.
Accompanied by a "keeper" memento
Presented to one person at a time, except in exceptional circumstances
Tim Irwin's service to CORK began with the first CORK regatta in 1969 when he wrote the program for scoring. It continued in a variety of roles and reached a high point in 2005 when he took on the roles of both Board Chair and Operations Chair. In those positions, Tim led the organization to bid for and deliver the 2007 ISAF Youth World Championships – the largest youth sailing competition in the world. This was in addition to CORK's four annual regattas and an average of one world championship each year during his leadership. His dedication and effort have been acknowledged by prominent awards at the community, provincial and national levels, a truly rare accomplishment. CORK's reputation, popularity and impact has everything to do with volunteers who have, year after year, served the sailors, parents and coaches. Leading the way for so many years was Tim Irwin. His dedication to CORK and the sport of sailing was in a class of its own. He was the embodiment of the CORK volunteer spirit.
Honouring the memory of Tim Irwin – Tim Irwin Award for Exceptional Service

At the 2021 CORK Virtual AGM April 13, 2021 CORK Board Chair Jamie Fraser presented the inaugural Tim Irwin Award for exceptional service to Brian Brooks.
Jamie presented  the award to Brian in person at the Tim Irwin naming ceremony on September 25, 2021.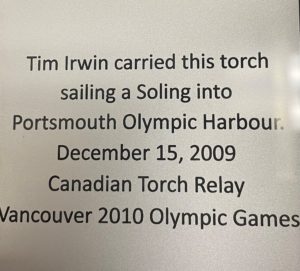 (Plaque beside Tim's picture on the award)
Thank you Brian Brooks for all for your dedication and commitment to CORK.  We appreciate your tireless efforts!