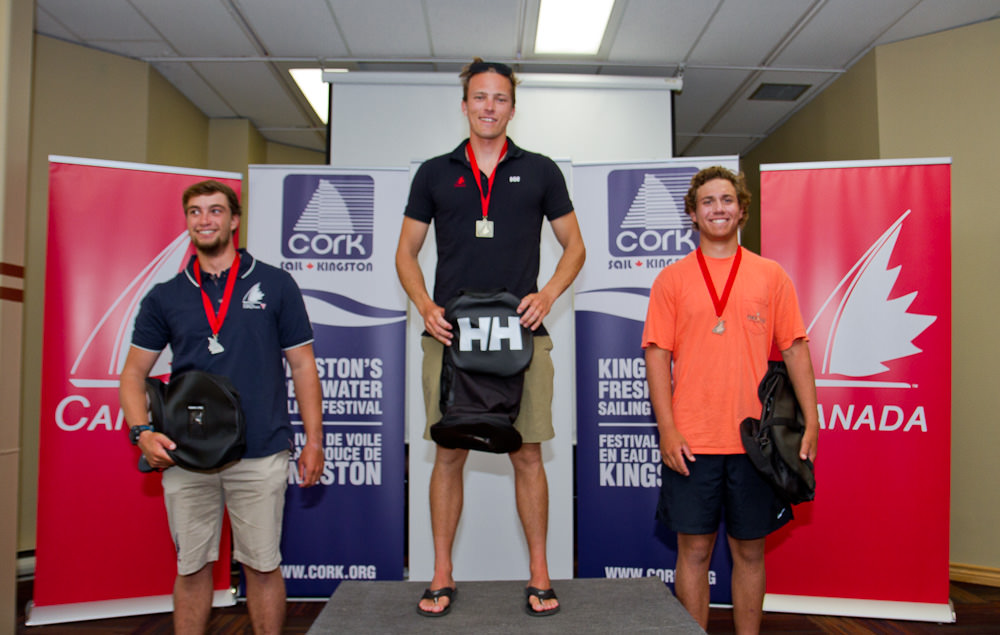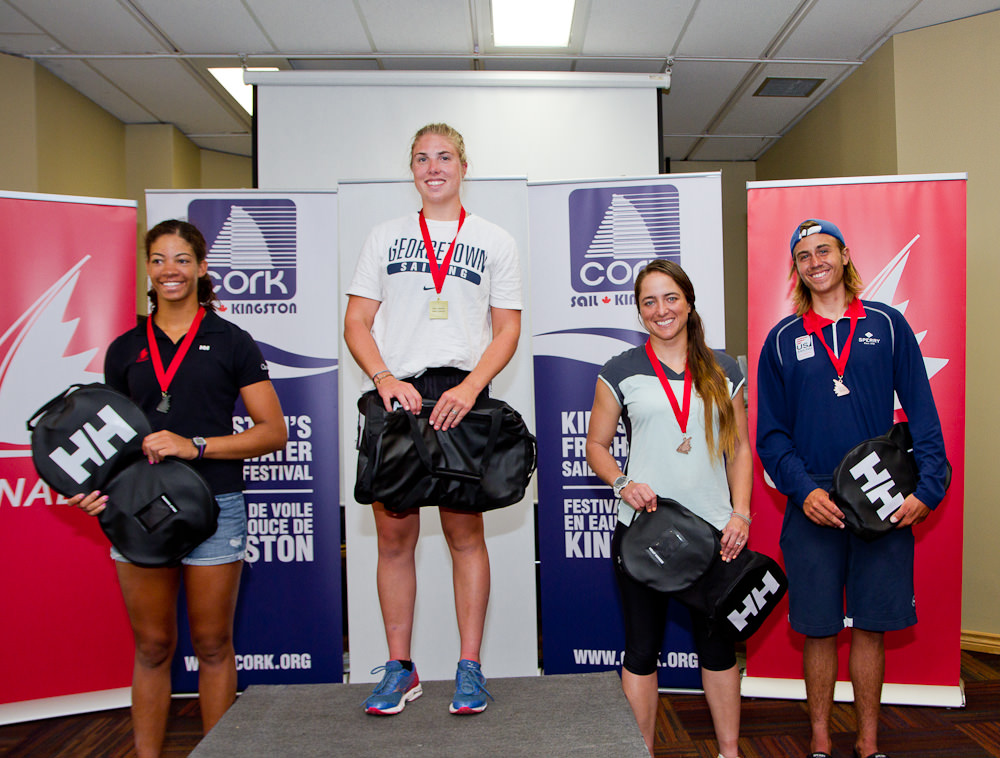 Wednesday, 24 August – Kingston
CORK International OCR:  Day 5
Laser and Radial Fleets Cap Off Senior Championships
Today was the final day of racing at the Sail Canada Senior Championships presented by Volvo Cars Canada at CORK OCR. With the skiff and Finn events finishing up earlier this week, only the Laser and Radial fleets remained to compete. Sailors raced in 12-13 knots of breeze from the southwest, and nearly cloudless skies; yet another great day of sailing.
The Lasers were able to complete two races today, amounting to twelve in total. Robert Davis (CAN) of the Canadian Sailing Team held the top spot for the entire event, and earned the gold medal. Justin Norton (CAN) secured a silver medal finish, while Marshall McCann (USA) took the bronze. The Radial fleet finished thirteen races in total, three of which were finished today. Haddon Hughes (USA) was the winner of the event, while Sarah Douglas (CAN) of the CST and Gage Wilson (USA) took second and third place, respectively.
Thank you to Helly Hansen for supplying all of the prizes for the regatta, and also to all of the participants and volunteers who made the event such a success. Tim Irwin, the CORK Regatta Chair, says "there are two key ingredients to a successful regatta. The first is good weather conditions, which we were fortunate to have this week, and the second is great volunteers, which we are lucky to have no shortage of." We hope to see you again next year!
Full results for all fleets can be found here.
Laser Standard
1st Robert Davis RCYC/KYC
2nd Justin Norton BYC
3rd Marshall Mccann TCYC
Laser Radial
1st Overall + 1st Female: Haddon Hughes TCYC
2nd Overall + 2nd Female: Sarah Douglas ABYC
3rd Overall + Top Male: Gage Wilson LYC
3rd place female: Andrea Aldana GUA
Event Photos available at www.sailingshot.com or by contacting administrator@sailing shot.com
Results
CORK Twitter
CORK Facebook
Sail Canada Facebook
For more information 
CORK website: www.cork.org
CORK Regatta Office: (613)-545-1322
Email: media@cork.org
Address: 53 Yonge Street, Kingston Ontario