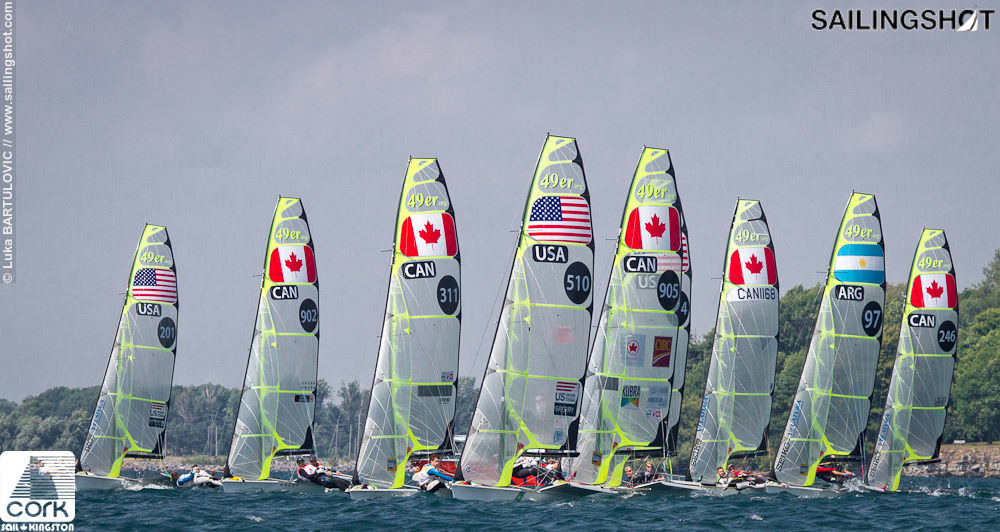 Saturday, August 20th 2016 – Kingston
Racing got underway for all fleets in the Sail Canada Senior Nationals and CORK OCR Saturday. The afternoon saw winds in the 8 – 12 knot range from the southwest, under mostly sunny skies.
Lasers, Radials and Finns started their event, while racing continued for the 49er & FX fleet on day two of their event. I14's also joined the skiff course.
Local sailor and Canadian Sailing Team (CST) member Robert Davis (CAN – RCYC/KYC) leads the Lasers after 3 races, with a 1, 1, 2 on the day. Teammate Evert McLaughlin (CAN – RCYC) sits a close second and Marshall Mccann (USA – TCYC) is third. In Radial action CST member Sarah Douglas (CAN – ABYC) leads the way, followed by teammate Corrine Peters (CAN – RNSYS) and Haddon Hughes (USA – TCYC). Finn sailor Kyle Martin (CAN – RvanYC) of the CST leads the Finns with three bullets, Rockal Evans (RBYC) is second and Darrell (USA) Peck is third.
Arielle Morgan & Heather Myatt (CAN – RTLYC) lead the way in the FX, with Ryan Wood & Andrew Wood (CAN – RvanYC) in second after a strong of bullets in the last three races. Kate Shaner & Caroline Atwood (USA) are third. In the 49er fleet, David Leinbenberg & Dane Wilson (USA – RYC) are at the top of the fleet, with CST sailors David Mori & Justin Barns (CAN – RCYC) in second and John Ferguson & Arthur Ferguson, also CST members in 3rd. Chris Leigh and Hans Fisher (CAN – RCYC) lead the three boat I14 fleet.
Full results for all fleets can be found here.
Tomorrow's racing starts at 1100 for all fleets. Check back tomorrow for more results.
Stay tuned throughout the event!
Event Photos available at www.sailingshot.com or by contacting administrator@sailing shot.com
Results
CORK Twitter
CORK Facebook
Sail Canada Facebook
Photo: Sailing Shot