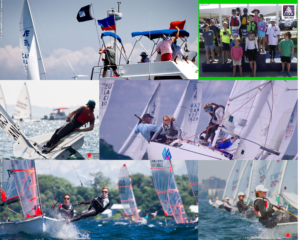 We are excited to see so many of you getting back out on the water!   Your success stories adapting to the new measures remind us of the reasons why sailing is the sport that we all love so much!
The CORK Team has missed seeing you all this summer.  The part that we have definitely missed the most is meeting great people from around the world and hearing all of your stories!  This connection to each other is one of the best parts about hosting regattas.   This summer we thought that you might like to connect with us online and share some of your stories.   We know that you all have so many great tales to tell!
CORK's first summer story challenge:
Tell us about your first time coming to CORK.
Was it as an athlete? coach?  volunteer?  a parent?
What year was it?
What was the event?
Who were you sailing with?
What were you racing?
What role did you have?
We would love to see anything that goes along with your story!   Results/video (perhaps sharing the tale)/ photos of people? medals?  T-shirts?
If this is a story that you would like to share with others online or on social media please reach out by emailing events@cork.org
We are looking forward to hearing from you!
The CORK Team

CORK website: www.cork.org
CORK Regatta Office: (613)-545-1322
Email: info@cork.org
Address: Portsmouth Olympic Harbour 53 Yonge Street, Kingston, Ontario, Canada.
Facebook: www.facebook.com/CORKSailKingston
Twitter: www.twitter.com/corkkingston
Instagram: www.instagram.com/corkkingston