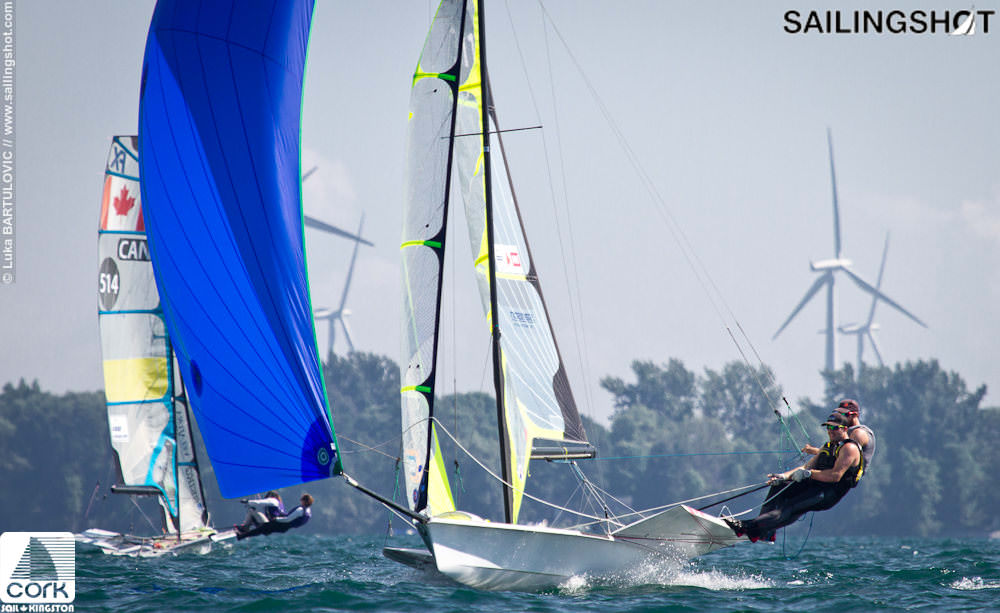 Friday, August 18th 2016
The 2016 Sail Canada Senior Championships at CORK OCR started Friday August 19th with 49er and FX sailors hitting the water at noon. Winds were light as overnight fog cleared, but gave way to sunny skies with winds around 8 knts. A total of 5 races per fleet were sailed for each fleet.
In the 49er David Liebenberg & Dane Wilson (USA) lead, followed closely by Canadian Sailing Team members David Mori & Justin Barns (CAN) and teammates John Ferguson & Arthur Ferguson (CAN).
FX sailors Airelle Morgan & Heather Myatt (CAN) lead the way, with Kate Shaner & Caroline Atwood (USA) in second position and Sophie Vinet & Naomi Flanagan (CAN) in third. Full results can be found here.
Racing continues through Monday August 22nd for the 49er & FX classes, with I14 joining the skiff course as of Saturday.
Laser, Radial & Finn racing also kicks off Saturday and carries on through August 24th (Finn racing ends August 23rd).
Stay tuned throughout the event!
Event Photos available at www.sailingshot.com or by contacting administrator@sailing shot.com