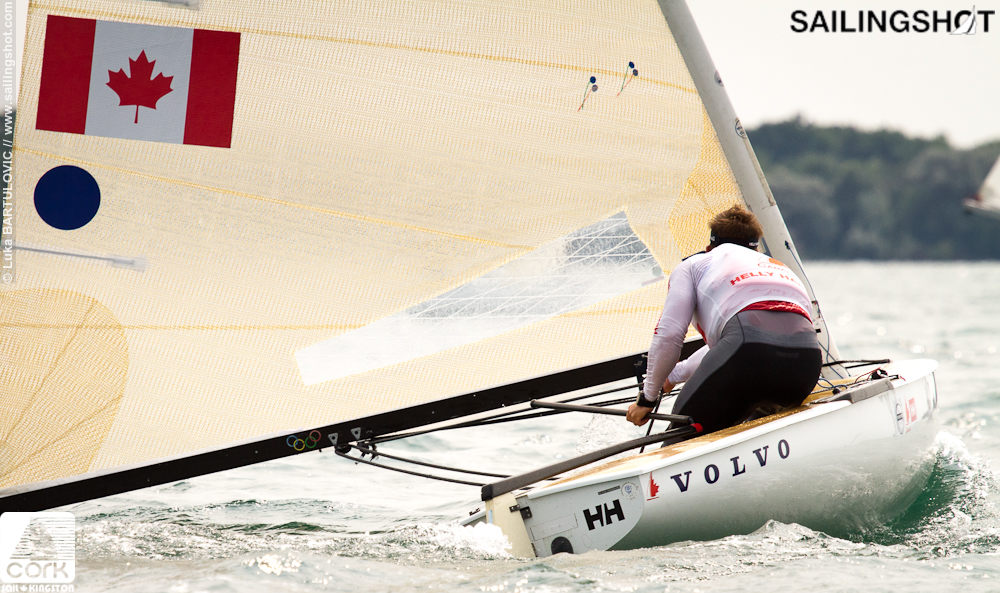 Welcome to the first day of CORK OCR Sail Canada Senior Championships!
We began the day with a great opening welcome with guests including Kingston's Town Crier Chris Whyman, Kingston City Councillor Peter Stroud, Canadian Sailing Team Member Sarah Douglas reading the Athlete's Oath and long time CORK volunteer Mike Dawson reading the Official's Oath.
We had a great day of sailing, with shifting winds ENE to NE and wind strength ranging from 11-13 knots.
The Laser Standard and Radial fleets completed 4 races, the Finn fleet completed 3 races, the 49er and 49erFX fleets completed 5 races and the J/24 fleet completed 4 races.
Results:
Laser Class
1st-Lamphere USA
2nd-Davis CAN
3rd-Boite FRA
4th-Bruce CAN
5th-Macrae CAN
Radial Class
1st-Gravely CAN
2nd-Vittecoq CAN
3rd-Ehnot USA
4th-Douglas CAN
5th-Collins USA
Finn Class
1st-Ramshaw CAN
2nd-Martin CAN
3rd-Mazin USA
4th-Peck USA
5th-Gallon CAN
49er Class
1st-Jones/DePaul CAN
2nd-Tosi/Tosi CAN
3rd-Lloyd/Cote CAN
49erFX Class
1st-Baird/Baird CAN
2nd-Bonin/Bonin CAN
3rd-Tenhove/Millen CAN
4th-Wilson/Moffat CAN
5th-Heinzemann/Coleman CAN
Thank you to the CORK volunteer team for all of your work on the water and ashore today!
For more informationn
CORK website: www.cork.org
CORK Regatta Office: (613)-545-1322
Email: media@cork.org
Address: 53 Yonge Street, Kingston Ontario
Facebook: www.facebook.com/CORKSailKingston
Twitter: www.twitter.com/corkkingston
Instagram: www.instagram.com/corkkingston