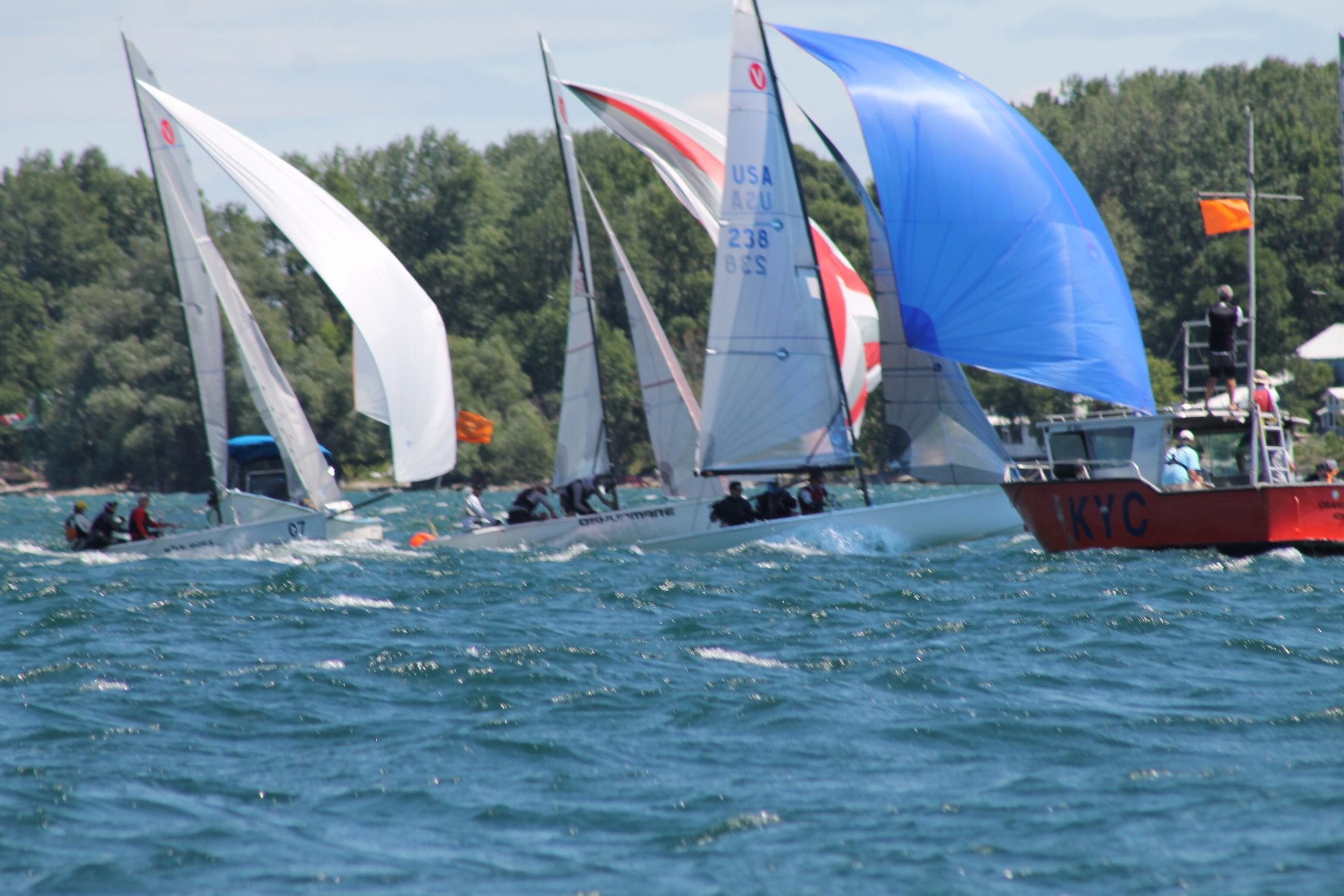 JAY RHAME, PETER AND RACHEL BEARDSLEY LEAD VIPER 640 NORTH AMERICAN CHAMPIONSHIP AFTER FIRST DAY
The 2018 Viper 640 North American Championship is being sailed in Kingston, ON hosted by the Kingston Yacht Club and CORK/Sail Kingston.
After days of unusually high temperatures and lack of wind, when the 36 crews arrived at their boats this morning there was a brisk 10-12 knot southerly blowing giving promise that the Championship would get off to a good start. Actually, the event got off to a very good start as the Kingston Town Crier, adorned in his full uniform regalia, rang his bell and delivered a stirringly official welcome to all the competitors to Kingston, "the fresh water sailing capital of the world!"
The sailing got underway on time and four races were completed with excellent competition leading the fleet as positions shifted leg to leg; but the lead was held throughout the day by the Rhame/Beardsley team. The Beardsleys (Brooklyn, NY) and Rhame (NY, NY) have been on an upward trajectory within the Class and are the only all-Corinthian team in the top four . Peter Beardsley commented on the day noting, "We were trying to sail cleanly because we have confidence in our boat speed. The hardest part was getting off the line well, which we were able to do, and staying ahead of the solid competition we are facing." They finished the day with a 1-4-3-1 scoreline for nine points.
A slim two points behind in second with finishes of 6-1-1-3 for 11 points is five-time North American Viper Champion Brad Boston (Point Edward, ON) sailing with his boat partner Lee Shuckerow (Detroit, MI) and Nick Lounsbury (Sarnia, ON). In third are Geoff and Mary Ewenson and Erik Broekhof (Annapolis, MD) with 26 points with former World Champion Zeke Horowitz and Ian Coleman (Annapolis, MD) and Jackson Benvenutti (New Orleans, LA) in fourth.
Day two promises more of the same winds the sailors enjoyed today. Four days of racing are scheduled concluding on Sunday, July 9.
Full Results Here
http://Results: https://yachtscoring.com/event_results_cumulative.cfm?eID=4581
About the Viper 640
www.viper640.org
The Viper 640 is a high-performance one-design sport boat. At 21 ft (6.40 m) and only 750 lb. (340 kg) it combines the stiffness of a keelboat with the acceleration and planing abilities of a dinghy. The Viper has a precise and exhilarating feel on the helm, a spacious cockpit for three or more people, strict one-design class rules, and ease of launching by ramp or hoist. With fleets and regattas around the world, there is certainly Viper racing near you.
For more information contact Viper 640 Class Association Administrator Ed "Buttons" Padin (epadin@padesta.com) or Rondar Raceboats' Dan Tucker (Dan@rondarboats.com).