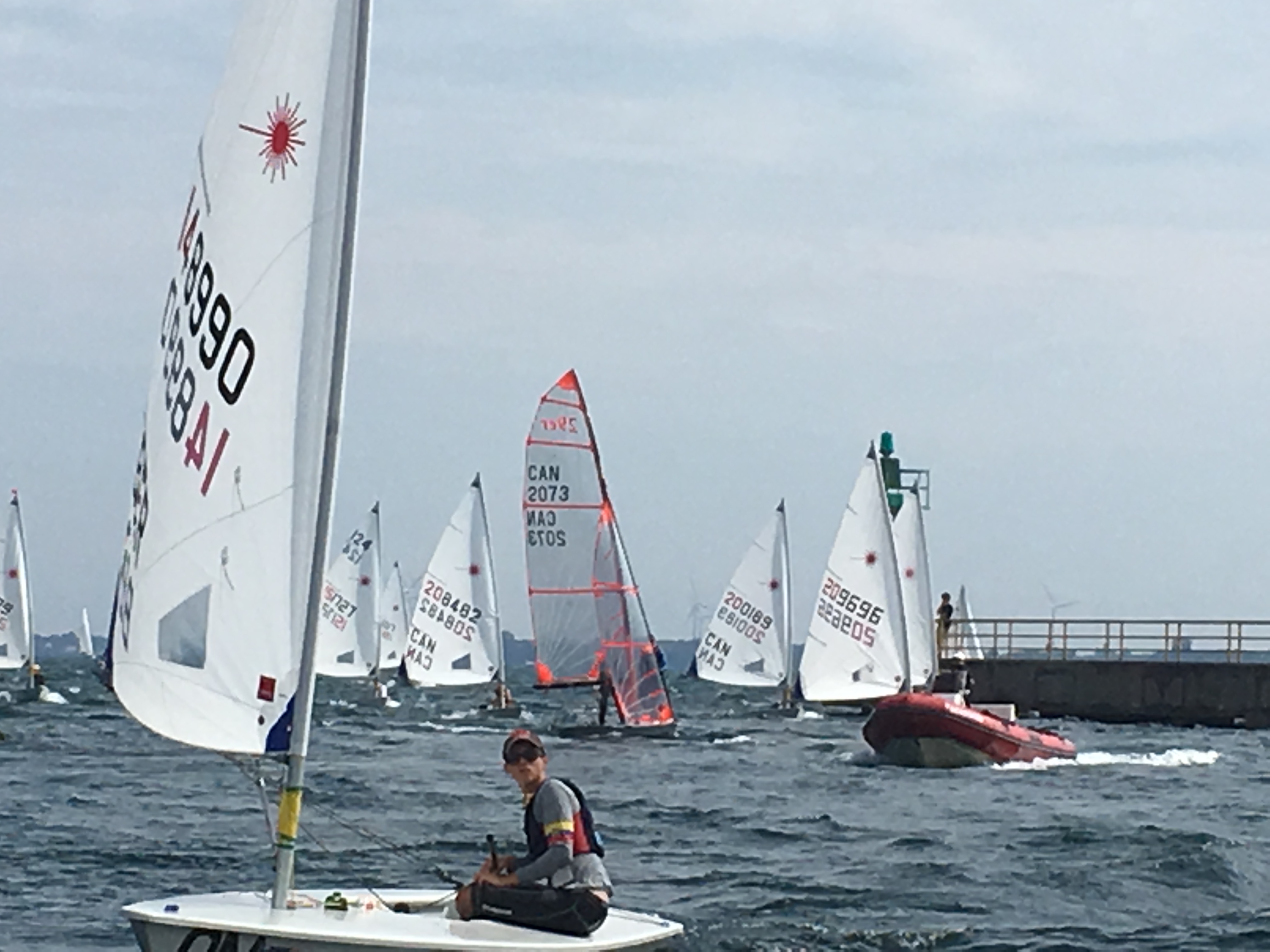 It was  a slower start to racing today as the RC waited for the sea breeze to build.  The thermal kicked in and all fleets completed all races as scheduled.
Plenty of movement on the leaderboard today!
Athletes had the opportunity to talk to Canadian Sailing team member Robert Davis at the debrief today to talk about race prep and Kingston conditions.
Here are the results after Day 2:
Laser Radials
1 Tayte Stefanuik CAN
2 Michael Ehnot USA
3 Christopher Araujo USA
4 Dale Whitmore CAN
5 Justin Vittecoq CAN
C 420
1 Synder/Porter CAN
2 Mosher/Nesbitt CAN
3 Leduc/Feeney CAN
4 Millar/Newhouse CAN
5 Santavy/Absi CAN
 29er North American Championship
1 Bonin/Bonin CAN
2 Baird/Baird CAN
3 Shachoy/Smith USA
4 Hardee/Hasson ISV
5 Chui/McCutcheon CAN
Results
i420 Canadian Championship
1 Lewin-Lafrance/Gillis CAN
2 Groves/Fraser CAN
3 Frost/Howell CAN
4 Heidenreich/Sapp CAN
5 Perrell/Klempen USA
Thank you to all of the volunteers out on the water and ashore who make events like this possible!  Your expertise and dedication to the sport of sailing are unparalleled!
For more informationn
CORK website: www.cork.org
CORK Regatta Office: (613)-545-1322
Email: media@cork.org
Address: 53 Yonge Street, Kingston Ontario