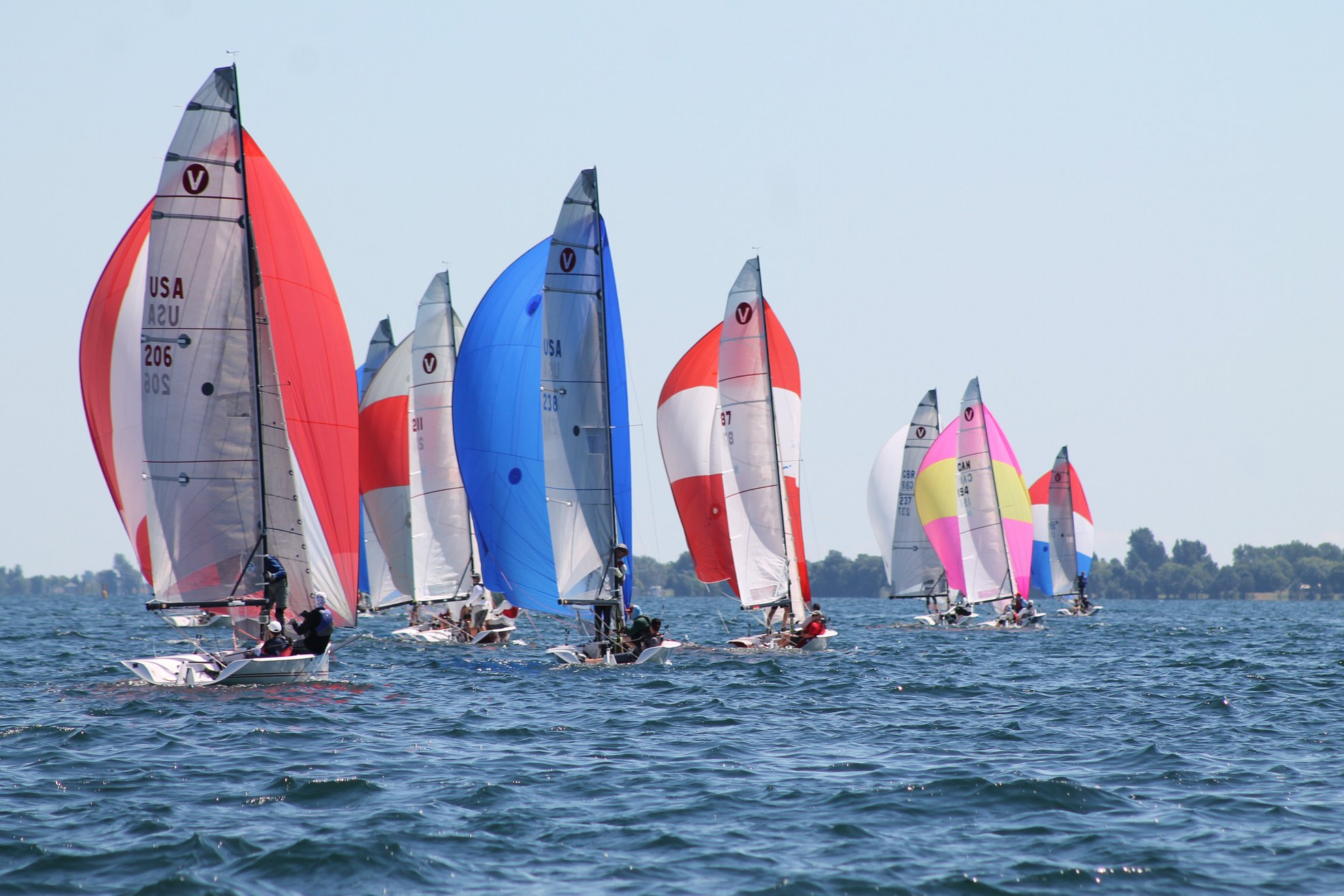 Boston dominates Viper 640 NAs Day 2 as leaderboard shuffles
It was "breeze-up at the Viper 640 North American Championship being hosted by the Kingston (ON) Yacht Club and being sailed out of CORK/Sail Kingston. Day 1 saw moderate winds from the south but Friday's northerly came with a cold front dropping temperatures to the low 70s and increasing wind up to the mid-20s in puffs. Boats with lighter crew weights that enjoyed an advantage on Day 1 found today's sailing a bit of a challenge. The northerly wind was full of puffs and holes at the bottom of the course with massive oscillations and shifts on the top half.
Brad Boston (Port Edward, ON) took over the lead of the 36-boat championship with a two-day 14-point total. Boston entered the day in second two points behind Jay Rhame/Peter Beardsley; but Brad reminded everyone why his name is on the North Americans trophy five times by shifting into high gear today and winning three of Day 2's four races (with his seventh in Race 6 becoming his throw-out). Rhame/Beardsley fell to fifth with an 11-10-10-9 scoreline.
Filling the leaderboard behind Boston is former Viper World Champion Zeke Horowitz finishing with 28 points after a solid 2-4-3-4 day. Zeke again showed his combination of superior boat speed and tactics and pushed Brad to the limits today.
Moving up to third place is Viper Int'l Chairman Justin Scott, one point behind Horowitz after a 7-2-6-2 day. Fourth place is now the home of southern California sailor Jay Golison who was the only boat besides Boston to take a win today and recorded 4-1-7-3 in today's racing.
When asked, Zeke Horowitz gave the following explanation on his moving up, "Better starts and fewer (or no) big mistakes. It was a very tactical day where you have to keep positioning the boat to make gains, and Brad did a great job of making sure he took advantage of the full effects of the shifts. He was very patient so he just made small gains all across the course that turned into big wins."
The day was driven by wind shifts and puffs. The bottom half of the course required you to stay right as the puffs were stronger there and the wind was moving right. At the top of the course, however, it paid off to stay left as shore effect winds giving boats a port tack lift into the mark.
Boat handling downwind was also key. "Keel down is good," noted Eric White (Annapolis, MD). "The orange keel (White's boat has an orange keel) never came out of the water today!" Puffs made the runs (as the locals would say) a hoot with some boats hitting speeds of 16-17 knots. Unfortunately, a number of boats found puffs challenging and got their spreaders wet.
Day 3 is forecast to have light winds in the morning with ten knots after noon.
For more informationn
CORK website: www.cork.org
CORK Regatta Office: (613)-545-1322
Email: media@cork.org
Address: 53 Yonge Street, Kingston Ontario
Facebook: www.facebook.com/CORKSailKingston
Twitter: www.twitter.com/corkkingston
Instagram: www.instagram.com/corkkingston