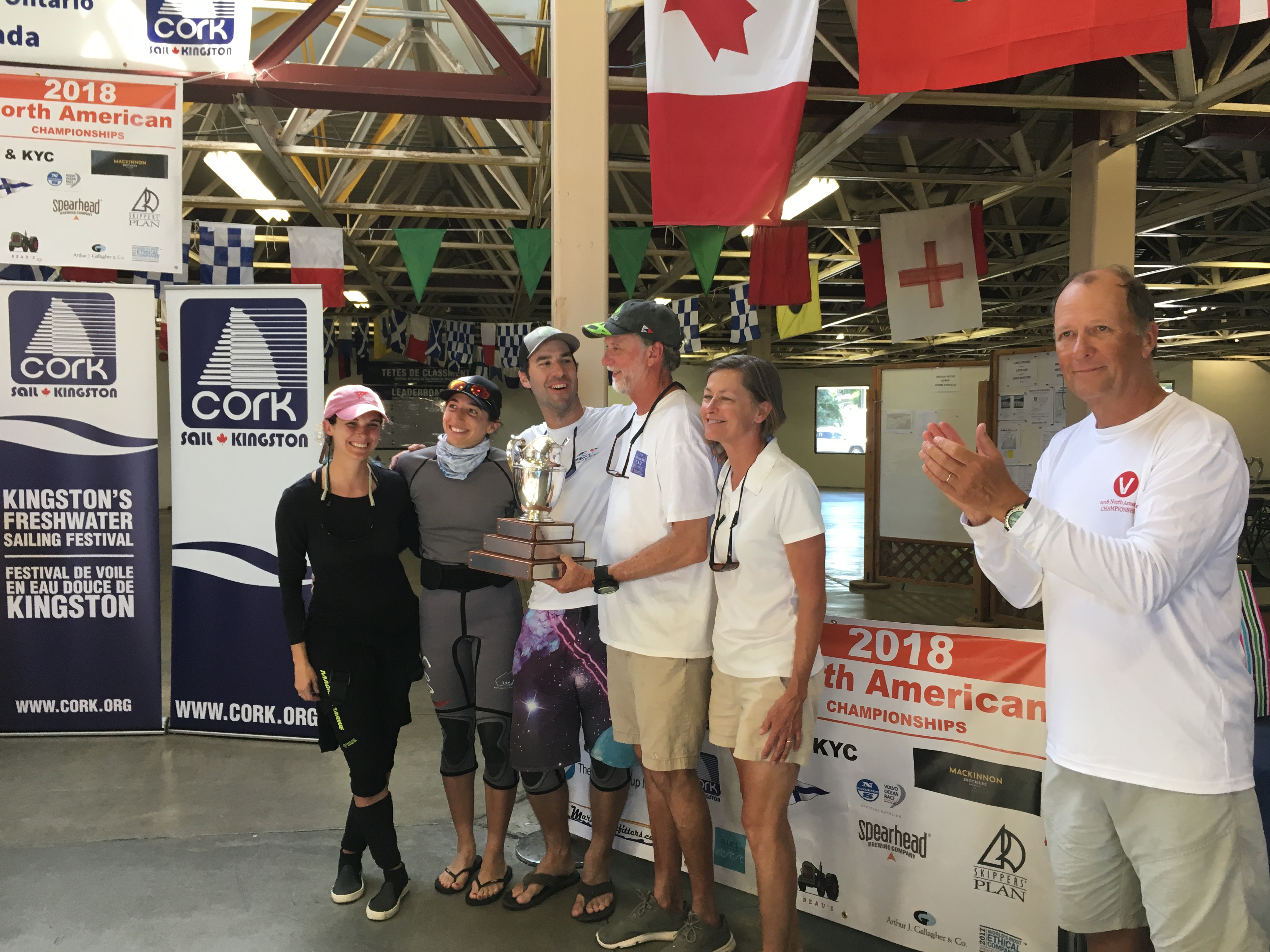 Brad Boston, Lee Shuckerow, and Nick Lounsbury named 2018 Viper 640 North American Champions!
Ed "Buttons" Padin
After four days of sailing in big winds and sixteen races, the team aboard JACKPOT won the 2018 Viper North American Championship. This is Brad Boston's (Port Edward, ON) sixth title, having won many with his boat partner Lee Shuckerow (Detroit, MI); this is their crew Nick Lounsbury's first North American title.
Boston's team took the points lead as of Day 2 and extended their lead throughout the remainder of the championship. The event was sailed out of CORK/Sail Kingston and hosted by the Kingston Yacht Club who, together, staged a world-class regatta.
In addition to the podium prizes, the following awards were presented:
Top Corinthian Team – Great Scott! Peter & Rachel Beardsley and Jay Rhame
Top Masters Skipper (over 55) – Justin Scott
Youngest Competitor – James Owen
Furthest Traveled – Somers Kempe's and Butch Agnew's crews from Bermuda and Jay Golison's crew from Long Beach, CA.
In addition, a new North American Championship perpetual trophy was donated by the Kleinschrodt family for which each boat nominated another boat for enhancing the event both on and off the water. This year's Sportsmanship Trophy was awarded to the crew of MEOW co-skippered b y Cole Constantineau and Eleni Asimacopoulos.
Viper 640 North American President Steve Chapman, Alcove, Que) noted that "It was really great to have this regatta in Canada and on the Great Lakes where the Viper fleet has enjoyed significant growth in recent years. The folks at KYC and Cork/Sail Kingston ran a superlative regatta. We'll be back!"
Heidi Colburn from KYC added that "It was really a wonderful experience to have the Viper fleet come to Kingston. The boats are fun to watch sail, the people are great to be among, and their broad smiles after racing and cheerful thanking of the regatta volunteers has made it all worth while for those of us who planned the event."
Tim Irwin, the Event Chair from CORK/Sail Kinston added, "CORK has been unexpectedly delighted to host the Vipers and it is very exciting to watch them race. They are a great bunch of sailors to host at a championship of this magnitude."
Congratulations to all competitors and we hope to see you again at CORK in the future!
For more information
CORK website: www.cork.org
CORK Regatta Office: (613)-545-1322
Email: media@cork.org
Address: 53 Yonge Street, Kingston Ontario
Facebook: www.facebook.com/CORKSailKingston
Twitter: www.twitter.com/corkkingston
Instagram: www.instagram.com/corkkingston