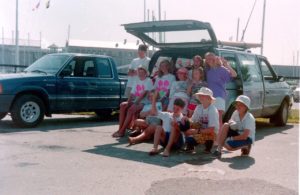 (Photo and story submitted by Erika Vines)
My first CORK was in 1989, racing an optimist. This picture includes David Westwood, Aaron Hobbs, Annie-Claude Ethier, Marie-France Ethier, Gordon Cook, Siri Agrell,  Vanessa Hobbs, myself  and a few others. This event was the first of around 20 CORK regattas I competed in over the years.
As a young sailor from Ottawa, I was always excited driving down Sir John A BLvd towards POH with some boat (Opti, Laser, or Europe) trailered behind.    I looked forward to the Kingston thermal, the waves and the 100 boat start line. When the breeze kicks in Kingston, what can be more fun than flying (and racing) downwind in a strong southwest breeze?   This said,  regardless of whether it was a world championship hosted by CORK or Fall, OCR, it was (and still is) great to catch up with sailing friends and the community at CORK.
Thank you Erika for sharing your memories with us all!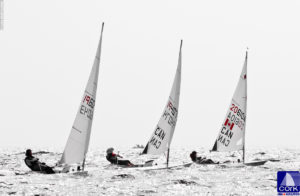 We thought that you might like to see picture of you racing against Canadian Sailing Team member Sarah Douglas sailing at CORK during the 2015 Laser Canadians.
(photo  Sailing Shot)
Do you have a story about your first time sailing at CORK in an Optimist event?  Was it in Green Fleet?  was is for the Optimist North American Championships?  Was is for the CORK International Optimist Regatta?  We would like to hear from you!
A big thank you to everyone else for submitting your fabulous stories and photos of your first time at CORK!  We look forward to sharing them over the coming weeks.
If you have story that you would like to share with others tag us in a story on social media or reach out to events@cork.org
We are looking forward to hearing from you!
The CORK Team

CORK website: www.cork.org
CORK Regatta Office: (613)-545-1322
Email: info@cork.org
Address: Portsmouth Olympic Harbour 53 Yonge Street, Kingston, Ontario, Canada.
Facebook: www.facebook.com/CORKSailKingston
Twitter: www.twitter.com/corkkingston
Instagram: www.instagram.com/corkkingston