(Story and Photos submitted by Galen Richardson)
I have definitely had some great times at CORK!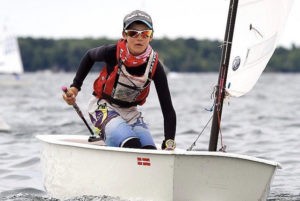 My first time at CORK was in 2010 when I was nine years old and sailed the optimist in green fleet. My biggest memory from the event was being so scared of the classic Kingston thermal and not wanting to sail. My parents were out in a zodiac and let me go in, but made me sail a couple laps of the basin at the ramp before I could call it quits. My fear instantly shifted from the 50 knot puffs (they seemed that big at the time) to the floating patches of seaweed in the basin (heaven forbit I'd have to touch one…)
(Galen winning the Valerie Bergeron Trophy as top Canadian athlete during the CORK International Optimist Regatta in 2014 and again in 2015)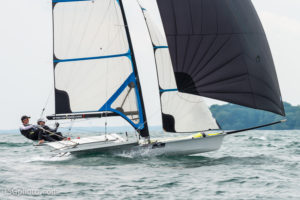 I love thinking about that first experience at CORK.  Now, one of my favourite memories is absolutely sending it downwind in the 49er in 25 knots at CORK OCR in 2019, with my crew Jake Adair and I just holding on for dear life. Despite being one of the smallest teams on the race course, we finished the race in second and stoke levels had never been higher.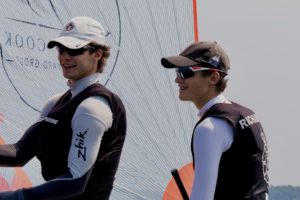 Since 2010, I've sailed in 10 CORK regattas, sailing in the Opti, 29er, 49erFX, and 49er. I always love when I get the opportunity to sail at one of my favourite sailing venues in the world, and look forward to when we can race next at CORK.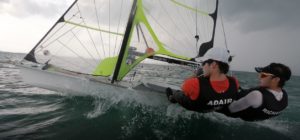 https://www.youtube.com/channel/UCYgUWlcbQZ_xCBQMJ__jQCg?view_as=subscriber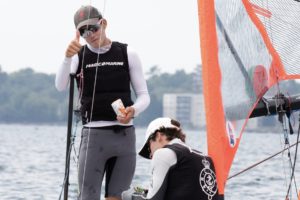 Wind Athletes Canada
https://www.windathletes.ca/athletes/galen-richardson-jake-adair
Thank you for sharing your story with us Galen!
If you have story that you would like to share with others tag us in a story on social media or reach out to events@cork.org
We are looking forward to hearing from you!
The CORK Team

CORK website: www.cork.org
CORK Regatta Office: (613)-545-1322
Email: info@cork.org
Address: Portsmouth Olympic Harbour 53 Yonge Street, Kingston, Ontario, Canada.
Facebook: www.facebook.com/CORKSailKingston
Twitter: www.twitter.com/corkkingston
Instagram: www.instagram.com/corkkingston