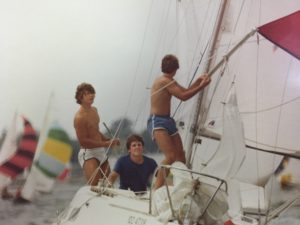 Photos and story submitted by Mark Lammens
Thank you for the opportunity to share CORK stories.
Our family went to CORK in 1974 and 1975 to watch the pre-olympic sailing on our family boat. I still recall the Flying Dutchman -FD's coming into the finish,  the top boats were a D (West Germany, the Diesch brothers) , a K (GBR, skippered by Pattisson) and a KC (Canada, Hans Fogh and Evert Bastett). They finished 1st and 2nd at the 1976 Olympics. Hans and Evert finished 4th.  We tried to race the Solings back to the harbour.
The year of the Olympics, 1976 the Olympic flame went right through our junior club sailing class on the St. Lawrence river in Brockville, the flame going from Montreal to Kingston. It was on the back of a rowing shell. My Dad said it would have been even better to be on a sailboat since it was going to the Olympic Sailing venue.
The first time racing at CORK was 1979 on a Tanzer 22. The 1978 Laser fleet misbehaved with many general recalls and cancelled days of sailing ( this was before black flags and split fleets). We could not race our lasers because it was not one of the CORK fleets. Laser would not be back until 1983. (It has been in the CORK mix every year since).
We were 16 and 17 years old and really wanted to sail at CORK. Chris Roode, Andres Pugi and I were the team, KC-41, Andres family had the boat. We were keen but a little inexperienced and did not know some of the class rules such as no hiking or leave the engine on the transom when racing.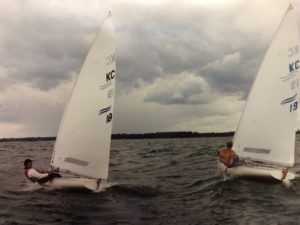 I also sailed 1980-1987, 1990, 1992-1994 in Finn.
(photo of Hank and I sailing the Finn in CORK 1987, Hank's first CORK in a Finn. We had just finished sailing at the Pan Am games in Michigan City, Hank in Laser and me in Soling with Hans Fogh and Steve Calder.)
I coached at CORK 1991, 1995-1996, 2008 and 2016.
Very fond memories of CORK. My brother and sister also sailed many CORK's.
Thank you Mark for sharing your memories with us all!    A big thank you to everyone else for submitting your fabulous stories of your first time at CORK!  We look forward to sharing them over the coming weeks.
If you have story that you would like to share with others online or on social media please reach out by emailing events@cork.org
We are looking forward to hearing from you!
The CORK Team

CORK website: www.cork.org
CORK Regatta Office: (613)-545-1322
Email: info@cork.org
Address: Portsmouth Olympic Harbour 53 Yonge Street, Kingston, Ontario, Canada.
Facebook: www.facebook.com/CORKSailKingston
Twitter: www.twitter.com/corkkingston
Instagram: www.instagram.com/corkkingston