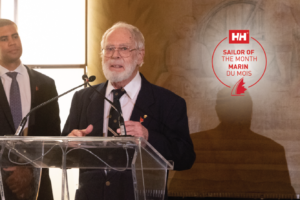 Congratulations Tim!
The CORK Team
If you've been to CORK, you've probably seen Tim Irwin. Whether he was organizing volunteers, managing gear, helping at the launch ramp, out on the water, or just walking through the boat park, he has always been an instrumental part of events in Kingston.
Tim has been a key piece in the success of CORK – Sail Kingston over the years, helping thousands of sailors from all across the country, and around the world, discover a love for sailing and challenging themselves in Kingston's famous thermal winds. The passion and commitment that Tim has brought to Sailing in Kingston are second to none, Kim Garrett comments;
"Tim has always worked to bring world-class events to CORK including 45 World Championships to date. His continuous efforts to create great training opportunities for athletes, coaches and volunteers, are admirable and he really is an inspiration to us all!"
Tim remains an active CORK board member and a member of the CORK Planning group.
His love for the sport of sailing shines through in every sailor's mind, CORK just wouldn't feel right without him there.
Congratulations to the Helly Hansen Sailor of the Month – Tim Irwin
Sail Canada's Sailor of the Month award acknowledges sailing achievements by Canadians involved or associated with the sport in all its forms. Sail Canada encourages the submission of noteworthy Canadian sailing activities here