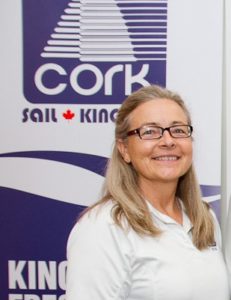 After 16 years CORK's Executive Director Marianne Davis has decided it is time to retire.
"It has been a privilege to work with our wonderful CORK team to develop the organization and host events over the past 16 years. It is now time to pass the baton and let others continue. I am looking forward to starting a new phase of my life with my family. "
The CORK Board of Directors thanks Marianne for her years of service.
"Marianne's passion for sailing and her welcoming approach to everyone at CORK have been the cornerstones of a great 16 years. She has guided CORK's event hosting with care and attention so that we deliver the best possible experience for athletes, coaches, officials and volunteers alike. We thank her for this exemplary service." Jamie Fraser, Board Chair
Marianne's tenure at CORK began with the planning for the 2007 Youth Sailing World Championships. She worked tirelessly with CORK's volunteer team to host World Sailing's flagship event for youth sailors. The event was an overwhelming success! In the years that followed, Marianne managed the event planning for CORK's annual events with similar success. In addition, her priority was to always seek out new opportunities for the organization by championing the sport of sailing in Canada. From hosting national championships, Olympic qualifiers and World championships to youth and officials development, Marianne's approach was clear –plan as many of the details ahead of time as possible and thereby deliver an excellent event. In short her impact at CORK has been impressive! We have all learned so much!
Although we will be sad to see her go, we wish her all the best for the future. Please join us in thanking Marianne for her years of service and wishing her a wonderful retirement!
Best wishes
The CORK Board
Note: Marianne is set to retire in the spring and there will be an opportunity to bid her a more personal farewell at an appropriate time. A formal job search will be launched shortly to select a successor.