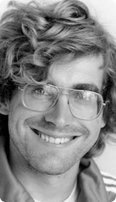 (photos and story submitted by Robert Woodbury)
I first attended CORK as an athlete in the OK Dinghy class in 1971. Jim Beckett sailed in that fleet as well if I remember correctly.  There were 56 boats (I might have these numbers a bit wrong). Four did not compete in the series, so there were 52 actual boats. I finished 51st. The Kingston Whig Standard did an article on me entitled "This is the story of a loser." No kidding!  Two years later, in the OK's last appearance at CORK, we had only 18 boats. I finished second. First was Clive Roberts, then world champion. Third was Tony Rose, then youth champion.
I have no photos of those long-ago days, but do have some around the 1980 Olympics.
Robert went on to be the top Canadian Finn athlete set to represent Canada at the 1980 Olympics.   Now he is
a 
National Race Officer & dedicated CORK volunteer!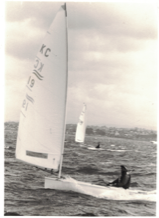 (The heavy weather photo is the Finn Gold Cup 1980.)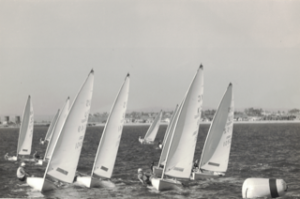 The fleet one (I'm in the lead) is the 1980 USA Nationals in Los Angeles.
Robert with the CORK volunteer team at the 2019 CORK International Optimist Regatta (Robert is holding the flag on the left with Tim Irwin holding the flag on the right )
Robert giving out the prizes in his role as the Race Officer of the Optimist Championship fleet at the 2019 CORK International Optimist Regatta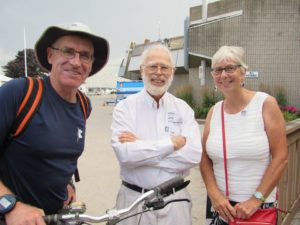 Robert at Portsmouth Olympic Harbour with Tim Irwin and Ann Rouget
Thank you for sharing your story with us Robert!
If you have story that you would like to share with others tag us in a story on social media or reach out to events@cork.org
We are looking forward to hearing from you!
The CORK Team

CORK website: www.cork.org
CORK Regatta Office: (613)-545-1322
Email: info@cork.org
Address: Portsmouth Olympic Harbour 53 Yonge Street, Kingston, Ontario, Canada.
Facebook: www.facebook.com/CORKSailKingston
Twitter: www.twitter.com/corkkingston
Instagram: www.instagram.com/corkkingston