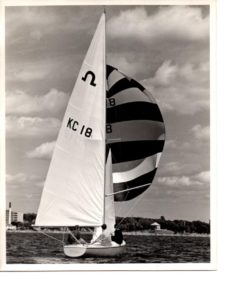 Photos and story submitted by Ron Gilkie
Soling KC18 taken at the 1969 CORK.
From left to right are: Graeme Duffus, John Vines and Ron Gilkie.
In 1969, at the Bedford Yacht Club in Nova Scotia, we were starting our sailing season with our 14 new Solings built by Bill Abbott.  This was also the first year for the CORK regatta.   So several owners decided to trail their boats to Kingston and participate.  Since we didn't have a trailer for our boat, KC23, I decided to crew with John Vines in KC 18 as his foredeck crew, along with Graeme Duffus.  This was my first taste of "big time" racing.  John Dane was the winner of the Soling fleet, which may have been the North American Championships, if my memory serves me well.  We launched our boats at RMC and brought them around to the Municipal Marina for docking.  Courses were held in the inner harbour, and the winds were quite light for Kingston.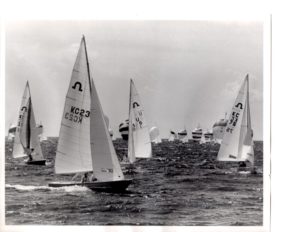 (photo of us in the last Soling race of the 1970 CORK.  This was taken as we were about to round  the leeward mark, dousing the spinnaker to proceed to the finish line.  We were in 10th place at the time.  From left to right you can see: my arm under the boom, Dick Shaw, and Alan McLean partly obscured by the jib.  Dick Shaw had been Canadian Snipe Champion and had competed in the Snipe Western Hemispheres at one time.  All three of us were professional engineers. )
I so enjoyed the experience that we trailed KC23 to Kingston for the 1970 CORK.
Our Soling was a three-way partnership and it was my year to be skipper.  We launched at the grain elevators, tied up at the new Portsmouth Harbour and bunked in the Queen's dorms.  This time we raced in the outer harbour, some six miles out from Portsmouth.  It was a great regatta, lots of wind, and all races were won by Buddy Melges.  There were 60+ Solings on the line, and a lot of learning going on for someone who had been sailing in a fleet of 14 boats.  Going into the last race, and sitting in about 45th position, we decided to sail for clean air, since we obviously were not able to duke it out with the "pros".  Our strategy paid off as we hit the windward mark in 10th place, and held it until we rounded the last mark for the beat home.  With 9 boats in line ahead of us, and with 50+ boats coming down on us under spinnaker, our options for free air were limited.  At this point I made a fatal error.  I bore off to get under the wind shadow of the lead boats and, after getting stuck trying to cross a line of boats which were on starboard tack, ended crossing the line in 20th position.  It was blowing about 30 – 40 knots that day and as we rounded the outer line marker, we hoisted the spinnaker and went into a full plane.  In no time at all we were passing many of the 19 boats we had followed over the line.  We arrived at Portsmouth Harbour as the third Soling to dock.  As a result, all our family followers thought we had come 3rd.  We basked in the false glory until it became obvious that this was not the case.
My next trip to CORK was in 1973, but this time as Deputy Measurer under Chief Measurer Sam Lazier, in charge of sail measurement.  I also had the wonderful experience of being a part of the Jury under Lynn Watters.  This process was repeated in '74 and '75 leading up to the Olympics in 1976, at which time I had the grand title of Deputy Chief Measurer for Sailing, again under Chief Measurer, Sam Lazier.  There were many memorable moments in 1976;  showing Prince Philip, Gov. General Roland Mitchner, and Prime Minister Pierre Trudeau around the Measuring Hall, and explaining the processes being used to certify the boats and sails for racing.  And there was the time I caught Valeri Menkin checking the measurement of a fitting on a competitor's spar.  But the highlight was meeting Queen Elizabeth II when she visited the site.
So now, at the age of 82, I often think back to those great days in Kingston and wish I could relive some of the good times with several of the people who are no longer with us.  I kept KC 23 for 35 years, and had the pleasure of winning the last race I competed in at the Armdale Yacht Club.  She is still sailing down in Mahone Bay.  That Bill Abbott sure built a solid Soling.
Ron Gilkie, Ph.D., P.Eng., FCSCE, FEC, FCSSE, FCAE, FRSA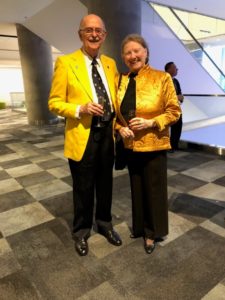 (Photo of Ron Gilkie and Mary Barker taken in 2018.  Ron is wearing his blazer from the 1976 Olympics.  Mary was the Tornado Class clerk in the '76 Olympics)
Thank you Ron for sharing your memories with us all!    A big thank you to everyone else for submitting your fabulous stories of your first time at CORK!  We look forward to sharing them over the coming weeks.
If you have story that you would like to share with others online or on social media please reach out by emailing events@cork.org
We are looking forward to hearing from you!
The CORK Team

CORK website: www.cork.org
CORK Regatta Office: (613)-545-1322
Email: info@cork.org
Address: Portsmouth Olympic Harbour 53 Yonge Street, Kingston, Ontario, Canada.
Facebook: www.facebook.com/CORKSailKingston
Twitter: www.twitter.com/corkkingston
Instagram: www.instagram.com/corkkingston