(Photos and Chapter submitted by Ted Weihe)
Here is chapter six in my book: Sailing in My Time: A Lifelong Passion for Cruising and Racing.
It describes the International 14s at the CORK regatta in 1976  It blew like hell and every other class wisely cancelled racing for the day.  But not International 14s.  It was survival all the way.  I forget who won but I believe it as a team from England that not only raced but flew their parachute.  They won by a mile.
Ted Weihe
Sarasota FL
Chapter 6: International 14
I thought I was a pretty good sailor until I bought and raced the International 14.  Out of the Air Force and working for a trade association, I made very little money in the early 70s.  So, when I went to Severn Sailing Association (SSA) in Annapolis, St. John Martin offered his old wooden International 14 as a starter.  The boat was Fairey design and not competitive but at least I got a feel for the class and the top competitors at SSA including Stu Walker who was a founder of this one-design, racing club.  Most of the 14s were either home built or imported from England.  The boats to own were Bruce Kirby designs.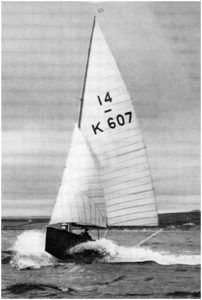 Fairey International 14
I did not keep the Fairey very long and bought a glass Souter Casson when the British, Canadian and US International 14 teams competed in Annapolis in 1972.  I wanted to buy the cold molded Kerby III, but I could not afford it.  One of my first regattas was to travel to Toronto to race at the Royal Canadian Yacht Club.  My wife-to-be Judy and I wanted to stay at her aunt's house, but she said that was impossible because I was a "sailor." We camped at RCYC where you took a launch from Toronto to the RCYC island with well-dressed members, but as racers we were allowed to come in cut offs and jeans.  At the regatta, we came in last and often "finished in place" so as not to delay the next race.  My wife decided racing 14s was not for her.  I recruited Ed Murray who was an excellent crew.  We started to get more competitive with some thirds at the Severn Sailing Association Annual Regatta in 1973 and in 1976.  We finished first at the SSA Regatta Day in 1976.
One of my most memorable races was on New Year's Day in a race up the Severn and around the island and back.  It was cold but International 14s had to prove that they were tough.  Stuart Walker was on the course and he keep going to one side of the creek to the other.  He was clearly writing a column for One Design Magazine on how to play wind shifts near shore.

Capsize off Severn Sailing Association
We went to the 1975 regatta in Ottawa, Canada, but did not get in a single race because of no wind.  For a family vacation we camped in Algonquin Park with the International 14 on a stone made mooring.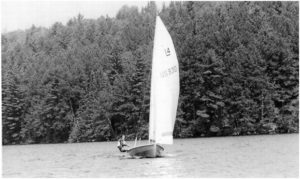 In 1976, I crewed for Phil Well from Philadelphia at CORK in Kingston, Ontario.  My soft top Fiat was broken into and the thieves took my suit.  I reported it and the local police said they had a problem with Americans' breaking into cars.  The wind was in the upper 20s and all other classes cancelled racing.  But, not International 14s.  About a dozen 14s went out with many capsizes and several broken masts.  We just tried to survive.  A competitor would pass us then capsize, we would catch him and we did this dance back and forth several times going up wind.  Gibes at leeward mark were like a demolition derby.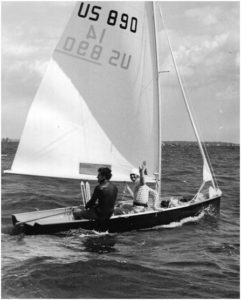 CORK at Kingston
I fully understand the problem with young professionals between work, marriage, night school and raising a family. I did not have enough time to practice in a very demanding class, nor could I ignore my other responsibilities.  At a team racing event at Seven Sailing Association with the Canadians and British, there was consideration in changing the rules to raise the eye for the jib and take 50 lbs. out of the boats.  I could not afford another jib, nor was it possible to take weight out of my glass 20.  At that point, I sold the boat which did continue to be raced.  I decided that I wanted to go back to cruising with my family.
Thank you for sharing the excerpt of your book with us Ted!
If you have story that you would like to share with others tag us in a story on social media or reach out to events@cork.org
We are looking forward to hearing from you!
The CORK Team

CORK website: www.cork.org
CORK Regatta Office: (613)-545-1322
Email: info@cork.org
Address: Portsmouth Olympic Harbour 53 Yonge Street, Kingston, Ontario, Canada.
Facebook: www.facebook.com/CORKSailKingston
Twitter: www.twitter.com/corkkingston
Instagram: www.instagram.com/corkkingston