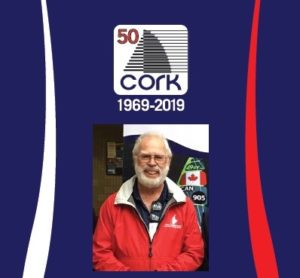 TIM IRWIN
(1940-2020)
It is with great regret that we pass along the news that Tim Irwin passed away early Friday morning at home in Kingston.
Tim Irwin was the true heart of CORK.
Tim's volunteer service to CORK began with the first CORK regatta when he wrote the program for scoring.  It continued in a variety of roles and reached a high point in 2005 when he took on both primary leadership roles of Board Chair and Operations Chair.  Almost immediately, Tim led the organization to bid for and deliver the 2007 ISAF Youth World Championships – the largest youth sailing competition in the world with 53 countries participating.  This involved such aspects as obtaining funding, arranging the fleets of charter boats and recruiting volunteers and officials.  all in less than 18 months after the original host withdrew.  It was also in addition to leading CORK's four annual regattas and an average of one world championship each year from 2005 until health forced him to step back.  He led CORK's team and built CORK's reputation as an international venue that could always be relied upon to produce a world class event.
Tim drew on his considerable experience as a racing sailor in guiding CORK. Tim grew up racing dinghies and keelboats and represented Canada in the 1968 Mexico Olympics in the Dragon class.  His strength was in how he combined a variety of people with qualifications into a highly functional team.  He led with friendship and consideration.  He created an environment that made volunteers want to return year after year.
It is no surprise that Tim's work was acknowledged by being presented CORK's Douglas Heath Award,  Ontario Sailing's President's Award, Sail Canada's President's Award and selection for the Kingston and District Sports Hall of Fame, a truly rare accomplishment.
In all of this, Tim never lost his bond and fellow-feeling for the corps of CORK volunteers.  He was the embodiment of the CORK volunteer spirit.
We will miss him.
From all of your friends at CORK
February 19, 1940 – August 7, 2020
Born in Hollywood California to somewhat eccentric Canadian parents, Tim bounced among six different elementary schools in California and British Columbia, including stints at Ganges Public School on 'hippie' Salt Spring Island and Queen Margaret School for Girls in Duncan, British Columbia. Apparently, he was not the only boy. High school was a little more orderly. After spending grades 7 to 10 in Duncan, he bowed to family tradition and followed his dad and uncles to Ridley College in St. Catharines, Ontario to complete his high school career.
After receiving his Bachelor's degree in physics at UBC, Tim spent two years teaching first year math and physics at Campion College in Regina. Why a Jesuit college hired a brash young non-believer remains a mystery, but he was fondly dubbed a "universal genius" when he persisted in engaging the good Fathers in theological debate.
Following the completion of his Master's degree in physics at UBC in 1965, Tim joined the technical department at DuPont in Kingston, where for thirty-nine years he enjoyed a rewarding research career that included a number of opportunities for international travel. In 1996, he was presented with a plaque in recognition of excellence in engineering. DuPont was bought and renamed Invista a year before Tim retired in 2005, and he continued as a consultant there for ten more years.
During his early years in Kingston, Tim owned a house on King Street that he shared with several young bachelors, all of them accomplished cooks. Their dinner parties were written up in the Kingston Whig-Standard, and typically featured good friends, good food, good wine, and good pot.
In 1976, more or less on a whim, Tim answered a classified ad, bought a farm, and moved to Hay Bay, where for the next ten years he combined his DuPont career with farming cattle, throwing great parties, and developing lifelong friendships.
Throughout his life, Tim's over-riding passion was sailing. It began when his father bought a 40-foot cruiser with a sailing dinghy and managed to convince his mother that Tim was safe as long as he was out and about in the dinghy. There followed an idyllic childhood of freedom and adventure in Maple Bay, B.C. with a close-knit group of friends who have remained connected to this day.
Tim followed the wind, and it was his knowledge of our legendary sailing conditions that brought him to Kingston. He was active in the Kingston Yacht Club from 1965, served as Commodore, and at his passing, was a life member. At the pinnacle of his sailing career Tim achieved a fourth place in the 1968 Olympics in Acapulco along with his teammates, Dave Miller and Steve Tupper. For the 2010 Olympics he was honoured to be one of the bearers of the Olympic torch.
Tim was among those who were instrumental in bringing the Canadian Olympic-training Regatta to Kingston and has volunteered for CORK ever since. His awards included: Peoples Credit Jewellers Athlete of the Year, 1969; Canadian Yachting Association Volunteer of the Year, 2007; CORK Douglas A. Heath Award, 2010; Ontario Sailing President's Award, 2019; Sail/Voile Canada President's Award, 2019; Helly Hansen Sailor of the Month, March, 2020.
If not for COVID-19, he would have been inducted into the Kingston Sports Hall of Fame in May, 2020. The severity of his illness precluded receiving the plaque at home, and the induction will take place posthumously in May 2021.
Tim remained an active volunteer to the end – only weeks before his passing, he was busy making coffee for the Tuesday morning CORK planning committee.
In his final years, Tim found his greatest joy spending time with his adored grandchildren. Despite his ailing health, he carried out the task of home-schooling his grandson during the pandemic with his customary gentle patience. Jayden and Madi will grow up always knowing that their Grandpa was simply the best.
A self-described fiscal conservative and social liberal, Tim had strong political opinions and loved a good argument. He was a man who was not afraid to wear his heart on his sleeve. He will be remembered by a host of friends who miss his warmth and tolerance, his sense of humour, and his down-home common sense. And by Eleanor, who misses everything he was.
Tim is survived by his beloved family: daughter Kaitlyn Romak-Irwin, her children Jayden and Madison; his sister Margot Szabo and her two daughters, Kathleen McClarnon and Silvia Szabo; and Kathleen's three daughters, Megan, Bridget and Mia.
Cremation has taken place.
A Celebration of Life will be announced at a later date. Those wishing to honour Tim's memory may donate to www.kingstonyachtclub.com/corinthianfund
which assists up-and-coming young sailors to hone their sailing skills and chase their own Olympic dreams. OBITUARY
Sail Canada
https://www.sailing.ca/eight-bells-tim-irwin/
Ontario Sailing
https://ontariosailing.ca/news/eight-bells-tim-irwin/
Scuttlebutt
https://www.sailingscuttlebutt.com/2020/08/10/eight-bells-tim-irwin/
The Whig Standard
https://thewhig.remembering.ca/obituary/timothy-irwin-1079707832